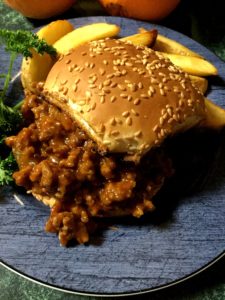 Sometimes you just want something different for dinner, but you do not want to sacrifice taste or time. Well…here ya' go! Sloppy Joe's from scratch! This recipe really hit the "different" spot.
Sloppy Joe's
1 Tbsp olive oil
1/3 cup green pepper (chopped)
1/3 cup onion (chopped)
1 lb hamburger
1 garlic clove (minced)
1 Tbsp yellow mustard
2 tsp brown sugar
1/2 cup tomato sauce
1/2 ketchup
dash salt
dash pepper
In a skillet, sauté the green pepper & onion in the olive oil about 3 minutes. Add the hamburger & brown until done. Drain well. Add the garlic, mustard & brown sugar. Mix well & cook 1 minute. Add the tomato sauce, ketchup, salt & pepper. Mix well. Simmer 5 minutes. Serve on toasted buns.