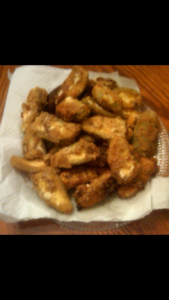 When sports are on the TV…finger foods are on the table. These jalapeño poppers are a crowd pleasers and make watching your favorite teams even better.
Stuffed Jalapeño Poppers
12 jalapeño …
1 cup milk
1 cup flour
1 cup bread crumbs
8 oz. cream cheese
8 oz. shredded cheddar cheese
2 Tbsp. bacon bits
1/2 tsp. season salt
oil for frying
Cut jalapeños in half & hull out all the seeds & membrane. Wash, pat dry & set aside. In three separate bowls, put milk, flour & bread crumbs; one in each bowl. Set all three aside. In another bowl, combine both cheeses, bacon & the season salt. Mix well. Spoon mixture into the hulled out jalapeño. Repeat till all jalapeños are stuffed. Dip jalapeños first in the milk, then flour & lastly the bread crumbs. Let them dry for 5-10 minutes. In a skillet, add enough oil to fry. Heat oil. Carefully add jalapeños & fry until golden brown about 4 minutes each. Drain on paper towels.
(Note: the membrane holding the seeds is where most of the "heat" is found in a jalapeño. So if "spicy hot" isn't for you hull out the jalapeño well.)