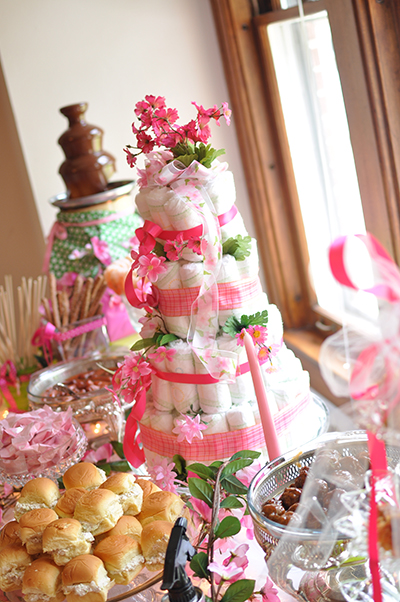 Let's celebrate life!!! Show that mom-to-be who may be tired, whose feet may be swollen, who is up many times during the night, how much she is loved.  Celebrate that she's an hero…she's a mom!!! Throw the mom-to-be a "foo-foo" baby shower with all the bells and whistles when it comes to decorations, food, family, friends and fun.
The "foo-foo" diaper cake 
Materials: 
diapers  (jumbo pack size 2)
1 roll transparent tape
2-3 spools of different color ribbon that match the color scheme
1 spool of white ribbon for tying diapers together  in a round. (Buy a small width ribbon. This is a functional material).
silk flowers
cake topper (suggestions: stuffed baby booties, stuffed animal, framed ultrasound picture, etc.)
Faux baby bottle, rattle, diaper pins etc.
How to assemble: 
Roll each diaper starting at the open end rolling towards the seam.  Roll the whole pack of diapers to ensure there will be enough. (Note: rolling and taping diaper will not prevent them from being used in the future).
Using a large mixing bowl to stand the diapers in to help form it's round shape may be helpful.
After you have the desired amount of diapers to form the foundational bases use the white ribbon to tie around all the diapers to secure them tightly.
Each foundational base should be smaller than the next.
Depending on the size of the bases of diaper rounds there should be 3 to 4 tiers
Stack the 3-4 bases on top of each other in graduated form.
Use your imagination to "foo-foo" the diaper cake
Helpful "foo-foo" hint: display the diaper cake on a pedestal cake stand.