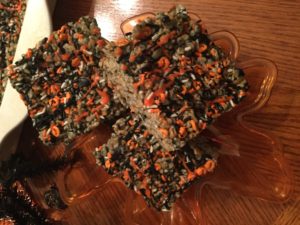 Rice crispy treats have been a kid & adult favorite around my house for as long as I can remember. Rice crispy treats are so versatile…& so simple. They can be decorated for any theme party and holiday. Halloween is no exception.
Scary Squares
7 cups rice crispy cereal …
1 bag regular size marshmallows
1 Tbsp butter
black & orange food dye
Halloween themed sprinkles
Place the cereal in a large mixing bowl & set aside. In a microwave safe bowl, melt the marshmallows & butter together in 30 second intervals. When the marshmallows are big & puffy stir until the marshmallows are melted & smooth. Using the tip of a toothpick add a small amount of the black & orange dye to the melted marshmallows. (No need to stir because the dye will incorporate when the melted marshmallows & cereal are combined.) Pour the marshmallow mixture into the cereal and mix well; add the sprinkles Press into a 9X13 dish. Add more sprinkles on top; press into the treats. Put in the fridge to set. Cut in squares.